Zoeller® Sump Pump Systems
Providing quality Zoeller® sump pumps in Indiana and Michigan since 1939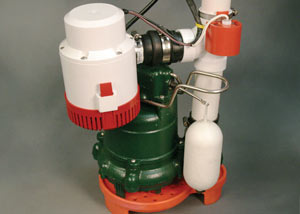 Not all sump pump systems are created equal! With hundreds of sump pumps available, we stand by the quality and reliability of Zoeller® Sump Pumps.
Sump pumps have come a long way in recent years, and they are better and more reliable than ever. However, old habits die hard, and there are still many old and outdated sump pump designs on the marketplace.
Plastic sump pumps can easily overheat, and even a simple design choice such as a screen on the pump intake can mean the difference between a clogged system and one that you can count on for years to come.
Finding a model that "has it all" (including power, reliability, and resistance to clogging) can be easier said than done!
At Nova Basement Systems, we're proud to provide only the highest-quality cast-iron Zoeller® sump pumps to our customers.
We offer free Zoeller® sump pump estimates in the Indiana and Michigan area, including South Bend, Elkhart, St Joseph and nearby.
Each quote includes an on-site inspection, written quote, and a copy of our 88-page waterproofing book. Contact us by phone or online today to get started!
Why We Stand By Zoeller® Sump Pumps
Why do we stand by Zoeller®? Because our full-time Research & Development department, along with hundreds of Basement Systems® waterproofers worldwide, have carefully examined and tested sump pump models of all types. Our research, combined with more than 20 years and thousands of sump pump installations, have all pointed to one fact: Zoeller® provides the best pumps on the market.
Basement Systems® dealers have been using Zoeller® pumps all over the world for more than 20 years, and they've proven their value time and again over the decades. At Nova Basement Systems, we also believe Zoeller® Sump Pumps are the best way to keep your basement dry all the time for the following reasons: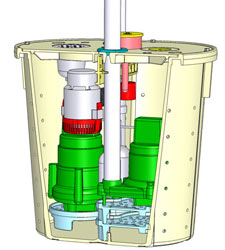 ---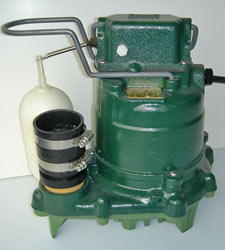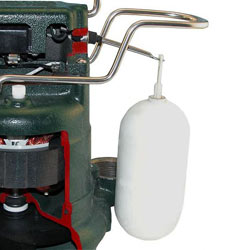 Zoeller® Pump Features:
Locked-in sump pump arm that is not "free-floating"
Solid, non-hollow plastic design prevents floating switch from filling with water.
Mounted sump pump design keeps pump from "wandering" due to vibration and jamming the sump switch against the edge of the sump liner.
---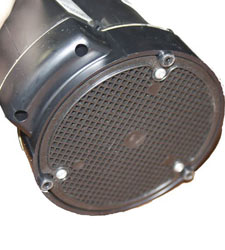 Installed in sump pit on a stand that keeps it away from silt and sediment settling on bottom of liner.
---